I got to go to 6 Flags with just Abbi, Ally & Jordan. Aunties were nice enough to watch Amelie and Jackson for me. I missed them both so much but it was nice to spend some quality time with Abbi. We had a blast! I've never been before, and I quite enjoyed myself. It's no Disneyland, but I thought it was great.
Being Silly in the back seat while Jordan chauffeured us to 6 flags. We all made it there alive! Thanks Jordan!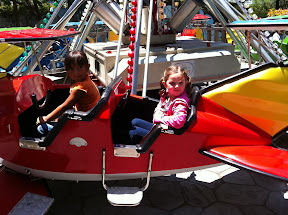 Abbi told me she needed a "foot break" I think she was tired of standing in line.
Brandi & co. met us there for the last part of the day. Abbi was excited to see her BCF Kami (Best Cousins Forever)
Matchers:
Abbi and Carter on the Submarine ride. He was so happy till the ride started!
Amazing butterfly garden! This was my favorite part. It also had a koi pond with huge koi!
Baby Audrey:
We looked at the sharks and fish for about 45 mins. The kids loved them. The kids in front of the dolphin tank:
Abbi won this super girl cape. If you can really call handing a guy $5 and swinging around a hammer winning!
She sleeps with this cape on and wanted to wear it to church!
We got Buddy a Batman one.
Ally the Super Aunt! Sorry there are no pictures of Ally because she had the camera and I had my phone and I really only blog from my phone these days. She and Jordan were off on the big rides most of the day. I love this drawing she had done! That's Abbi, Jack & Amelie:
- Vanessa & Family